Last Workshop Of The Year!
Market Like You Mean It Workshop
Nov 19th, 2013 930am-2pm
Includes Lunch

Half-day, small-group intensive marketing workshop for entrepreneurs who are changing the world and want to make a good living doing it!

Limited to only 10 people.
This workshop is based from my Greatness Marketing Principals that I've coached entrepreneurs with for 12 years, and I have used to grow all of my global projects and national businesses!

In this workshop you will:
Gain clarity in who, where and why your target market buys from you

Get clarity on your landing statement (your verbiage) that attracts clients to you

Get clarity on your brand promise and how that magnetizes clients to you

Learn how sales and marketing work together to triple your business

Step into your greatness and know that you CAN play BIG!


Build your editorial calendar for your blogs/social media/online outreach

Start to build a 12 month strategic marketing plan (no more winging it!)

 PLUS you will meet 9 other women business owners who have the potential for


collaborations, partnerships, affiliates and friendships so be ready to network! 
  Workshop FAQ's:
Please arrive 15 minutes early for coffee and to get settled

We will start promptly at 930am

Each event is $149 per person (or $125 each when you sign up for 2 people)

Each event is limited to 10 people so we can work on your buisness together


You will receive a pre-workshop survey a week prior so you come ready to rock!

REGISTER ABOVE – This is THEE least expensive class/coaching Dena offers!

Need other or additional business coaching or marketing support?
Read the additional ways I support, partner and skyrocket entrepreneurs here!
Need Testimonials?

Thanks for the Market Like You Mean It workshop today! I walked away with several great ideas that will be implemented into my marketing plan-most inspirational however was the concept of 'smallness' and the importance on staying out of it!! Much more productive in Greatness…
-Lisa Farrar, Karve Studio Barre Fitness Gilbert
Was in a great marketing workshop led by Dena Patton today. The thing that stuck with me the most is the way marketing is supposed to work–get your sales number clear FIRST and then have the marketing support your sales. We so often hear the message the other way around, so this was a real gem for me. Great job today, Dena, and thanks for your passion and support.
– Jody Owen, Owner at The Space You're In, Productivity & Flow Coaching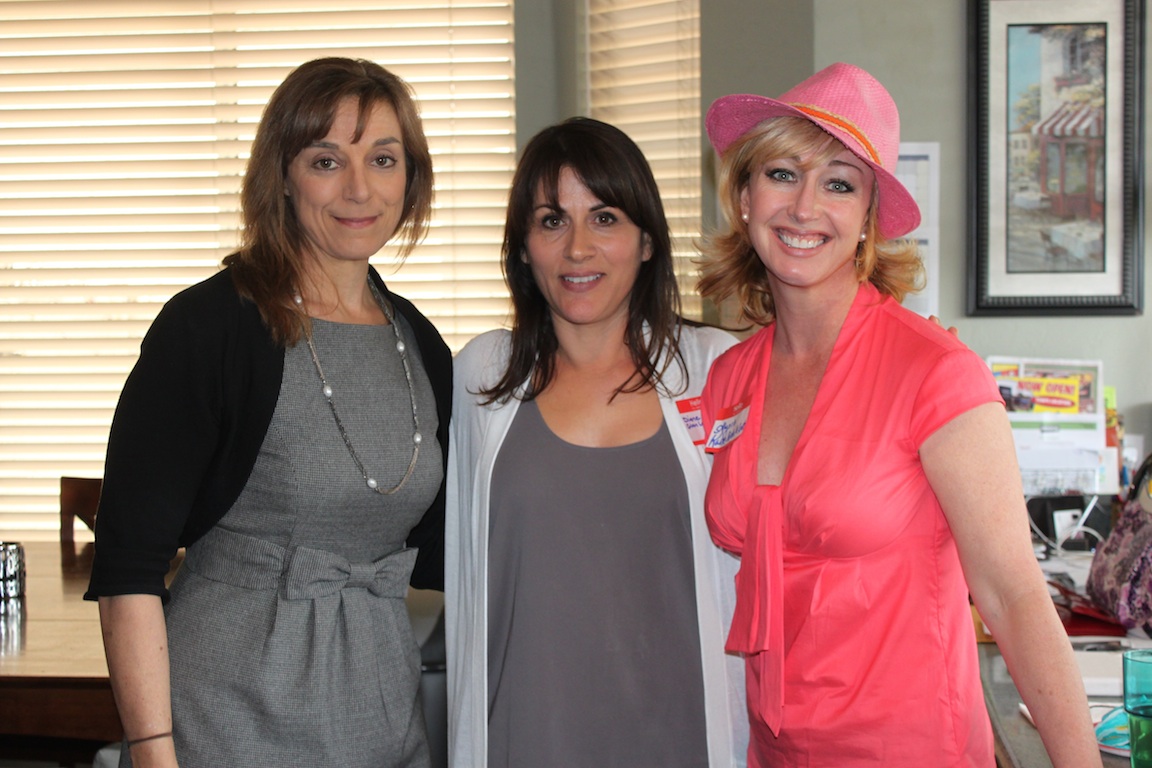 Speaker Rebecca Kenyon, celebrity makeup artist Diane Aiello, & Karve Owner Alyssa Spenser connecting over lunch.
Working with Dena as my coach has given me more than I can express in a testimonial. The understanding and practice of her teachings from greatness vs. smallness, to focusing on who you are being, has not only changed the way I do business but the way I approach life. Dena talks the talk and walks the walk and her ability to cut through the nonsense and encourage you onto a better, more balanced and productive path is priceless.
-Diane Aiello –Celebrity Stylist and Owner,  Glam Lounge Artists Award Winning On-Location Makeup & Spa Team


Attended Dena's Market Like You Mean It workshop today. WOW! What can I say, Dena Trakes Patton. YOU & your brilliance, uniqueness, willingness to approach marketing differently makes ALL the difference! While I had MANY take-aways from the Market Like You Mean It workshop, 2 things are jumping out at me: Sales is a goal that is SUPPORTED with proper marketing underneath, and having a Donation In-Take Form to sort all the many requests that I get for donations. Thanks a Million!!
-Char McCreadie, Mary Kay
Attended Dena's Market Like You Mean It workshop today. It was so full of great stuff, great ideas and tools, and some very remarkable women! The first and best tool I acquired today was "own your greatness, play big!" It's the perfect mind set to start each day in the shop.
-Nancy Ruybal, Owner at Kay Creek Western Wear & Western Music
"Dena you rock – I loved working with you for the Branding/Landing session. You could clearly see my brilliance and turned it into language I could feel authentic about using and that would speak directly to my target market. It has already made a difference in how I invite people to work with me and the amount of "Yes's" I get (Much More) which are turning into cash."
– Barb Stuhlemmer, Ontario, Canada